1. What is Career Support Network System for International Students in Japan?
1.1 About Career Support Network System for Foreign Students in Japan
"Career Support Network for International Students in Japan" is a system to enhance support for foreign student on their job hunting. Is only provided for university member with an official approval.
Those who wants to get a job in Japan, this system will show you about Japanese way of job-hunting and how to prepare for it. You can learn from the web within 24 hours.
Also, we provide information about job openings which company is eager to hire international student and guidance, seminar, combined information sessions and so on.

1.2 Support for foreign student's job hunting
1. Manual and job hunting knowledge. (About 50 movies are provided)
2. Test preparation. (e-learning) (About 200 questions for practice)
3. Business Japanese. (e-learning) (18 movies are provided)
4. Information of company information session for foreign student.
5. Information of combined information session.
6. Information of guidance and seminar for foreign student.
7. Information from university which you are attending.
8. Other information related to international student job-hunting.

2. How to entry the site
In order to use "Asia Jinzai Network", you have to follow the procedure to get an ID and password.
Select your
University

Find the university you belong to from the university list, then click and acccess to login page.

Click
"新規登録"

Click "新規登録(Registration)" button.

Enter your
E-mail Address

Type the e-mail address that you got from the university.
(****@******-u.ac.jp)

Click URL

We will send you a confirmation. Please follow the URL.

Enter Password
and Nickname

Enter a nickname and a password. Your nickname is only show on the private top pages.

Registration
Complete

We will send your ID and password to your E-mail. Now you can access all informaion of Asia Jinzai Network with your ID and Password.
3. About top page
On the top page, you will see new contents for each section. If you want to see English content of outline and preparation for job hunting, please check and click4"Study about Job hunting". If your Japanese level is N3 of JLPT, you can also see content of9"ビジネス日本語 (business Japanese)".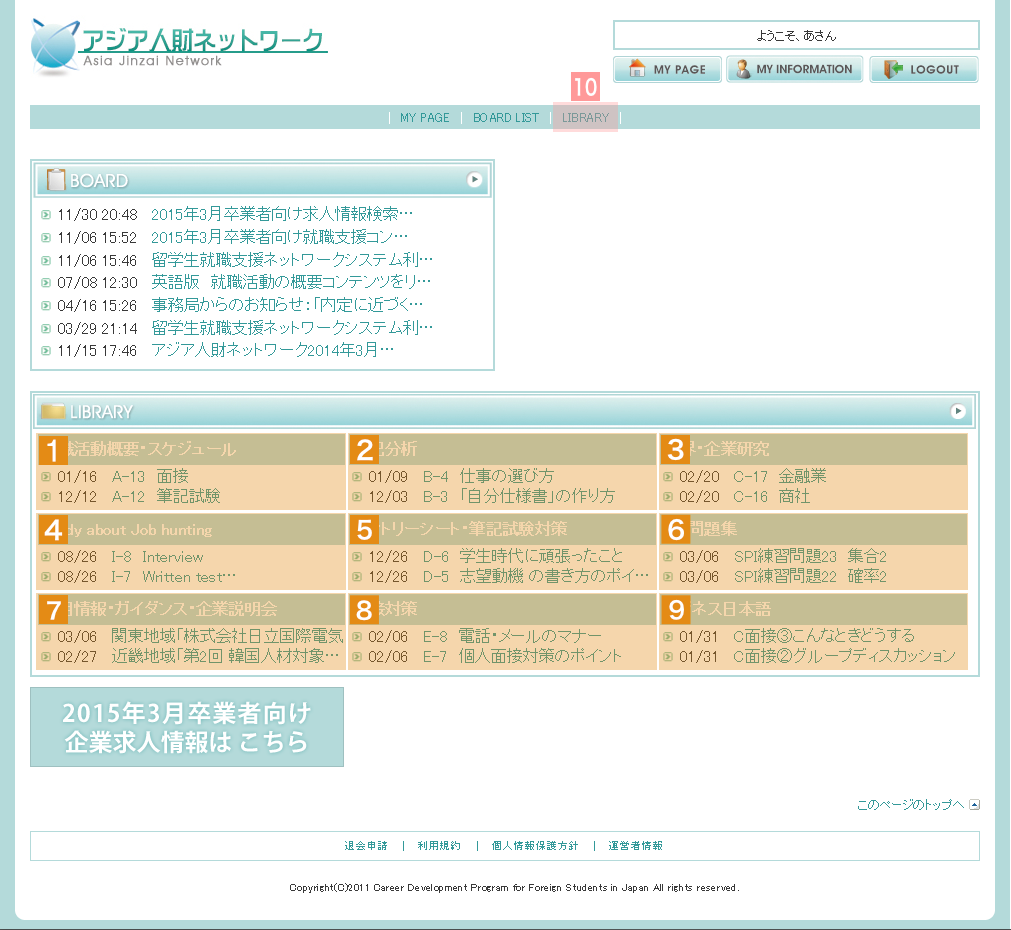 1Outline and schedule of job hunting (JP)
You can learn outline and how to prepare for job hunting.
2Self analyze (JP)
How to self analyze which require for writing application form.
3Research company and industry (JP)
Information about various industry and company which matches you.
4Study about job hunting. (English)
You can learn outline and what you should do for job hunting in Japan in English.
5Preparation for application form and paper test (JP)
Basic information about application form and paper test.
6Practice question for SPI (JP)
Efficient way to solve question which foreign student have hard time to resolve.
7Information about recruit, guidance, and company information session (JP)
Recruit information especially for foreign student.
8Preparation for interview (JP)
Basic information about interview and careful point which foreign student tend to miss or fail.
9Business Japanese (JP for over level 3)
For studying business level Japanese which require while doing job hunting in Japan.
10Research LIBRARY function
Research past content with LIBRARY function.
4. How to see and browse the LIBRARY
The top page only shows new contents, so if you want to see past content, please follow the steps below.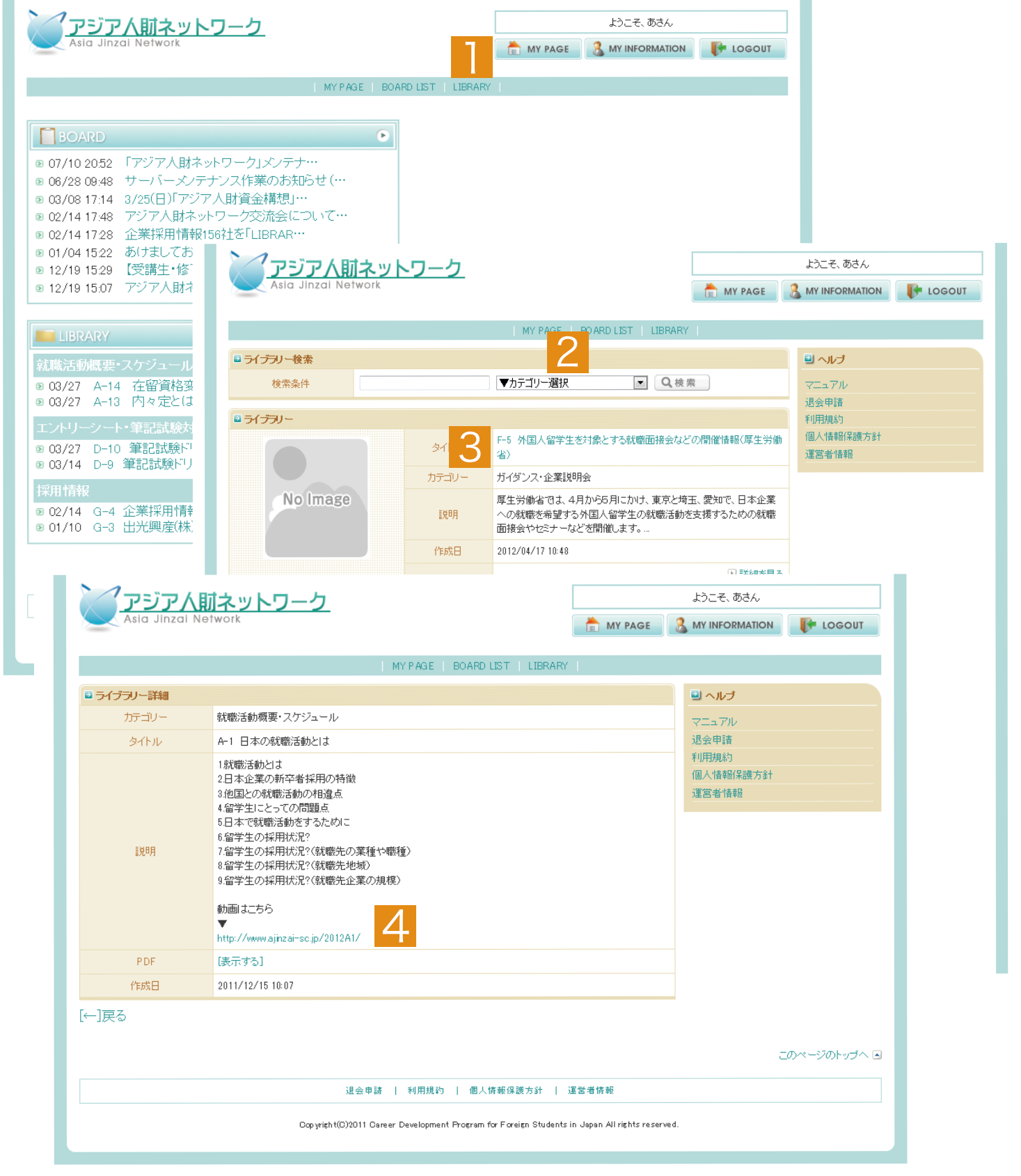 1When you click LIBRARY on top page, you can see all content in LIBRARY
2Choose what type of content you want to see and click research button. If you want to see English content, choose Study about Job hunting from category bar.
3Click title or "詳細を見る" on the web, you can find out about the detail of content
4To watch movie files click the URL under
▼Click below to watch this video (Available on Smartphone)
5. How to find a job information
To get job information from company
After understanding Japanese job hunting, let's check Japanese company's job information for foreign students.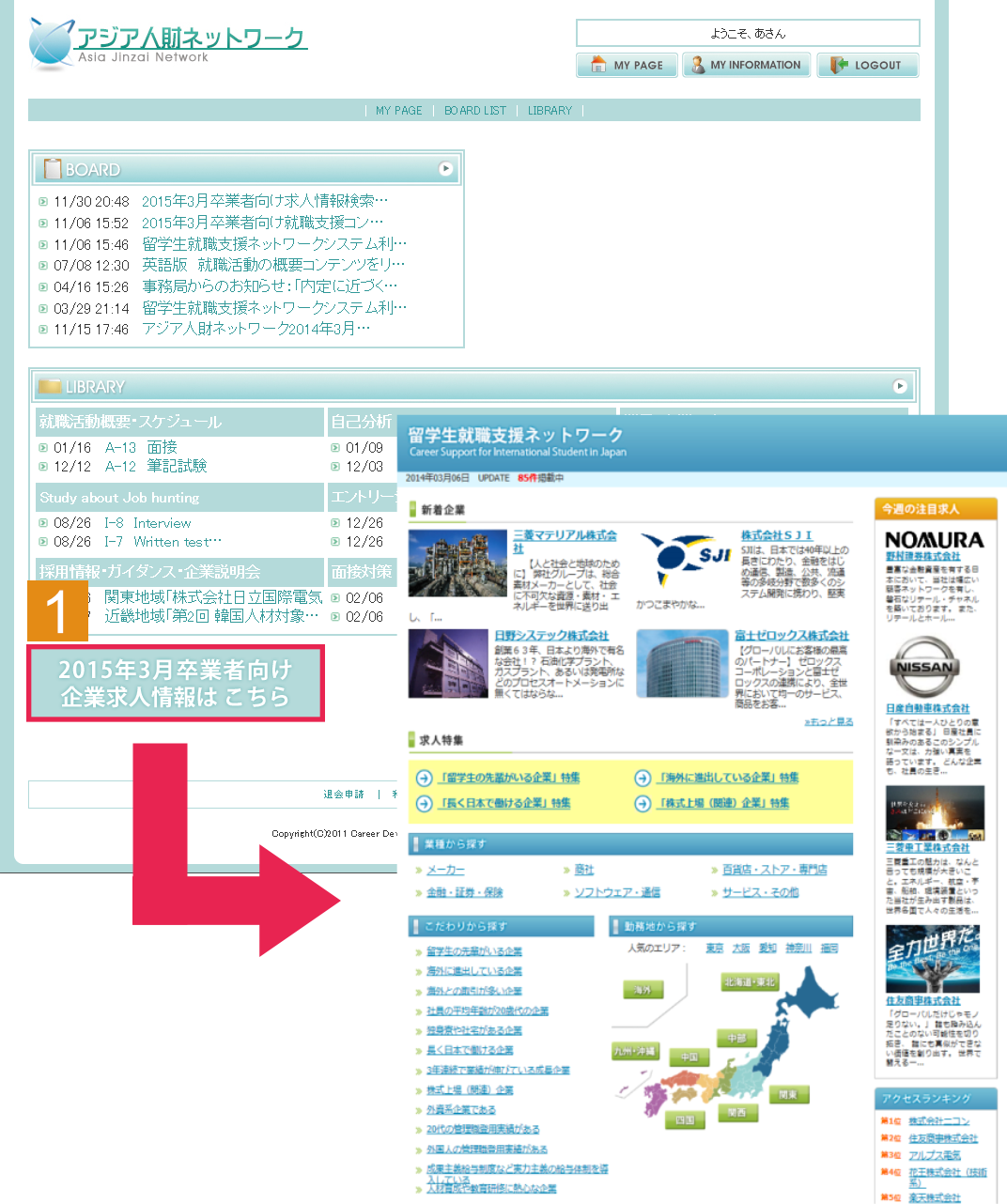 1Job information
We also provide job information which hiring foreign students. To see job info, please click1. Then you can see the link with job information only provide for the foreign students uses this support network system.

On the job information page, you can see how many foreigner works and how many foreign student were hired. Also, this kind of information is not usually open. These are written for foreign students. So check condition of company and apply actively.
【Detail of each company's job information for foreign student】
・Overseas expansion (Planning)
・Where to work(In Japan or overseas or certain period of time in Japan)
・Hiring number of foreign student or both Japanese and foreign student
・Required skill which is language and what kind of person or ability the company seeks for
・How many foreigner works in Japan
・How many foreign students were hired in past 5 years